Cozy Unisex Oversized (Wearable) Blanket Hoodie
---
As the days get shorter and colder, our search for warmth and comfort becomes more pressing. Enter the Blanket Hoodie – not just a garment, but a wearable snuggie hoodie that promises to redefine coziness. Let's wrap ourselves in the details of this snuggly trend that combines the oversized hoodie's casual charm with the cuddle-ready vibe of a hoodie blanket.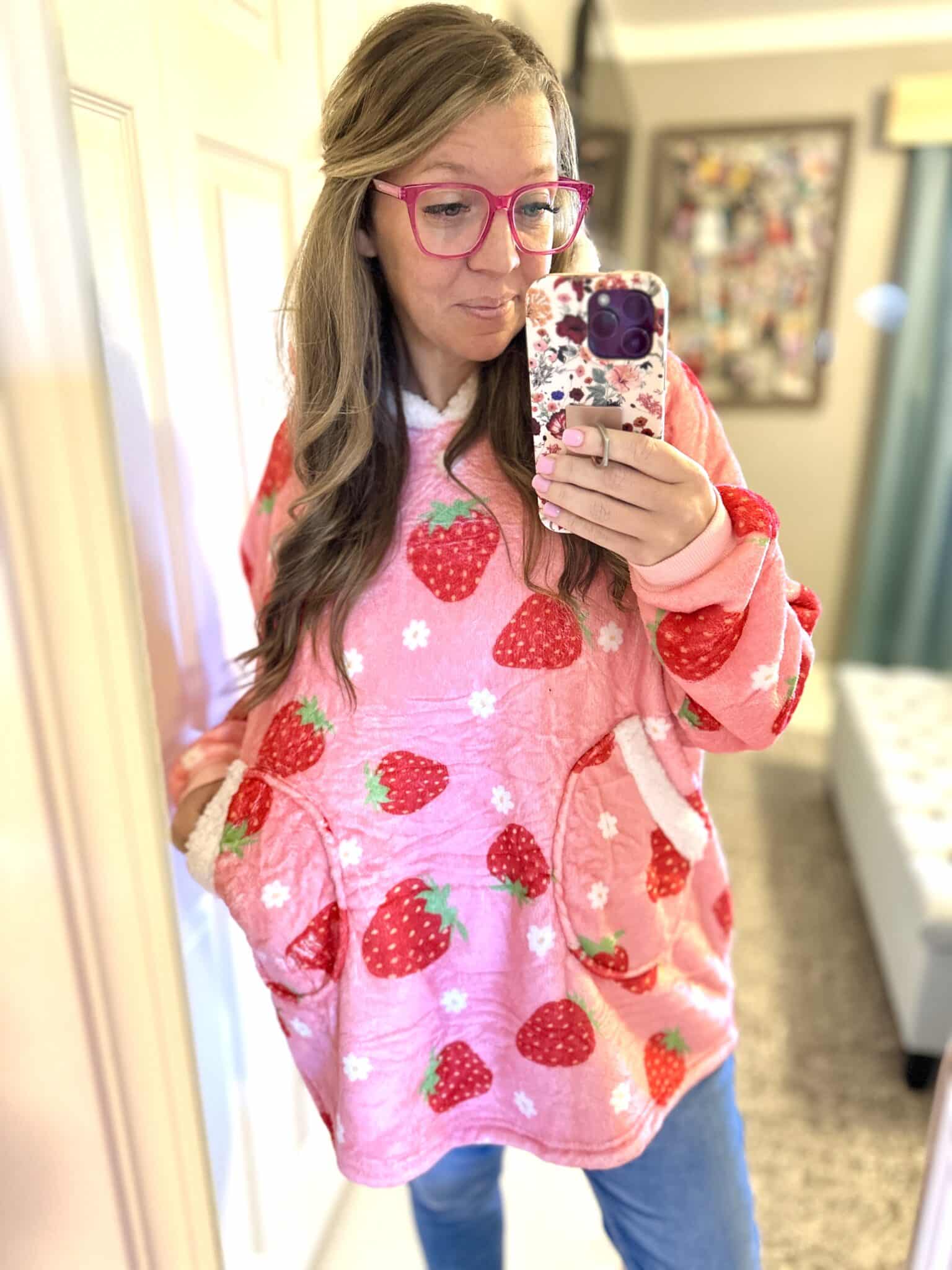 Why Choose an Oversized Blanket Hoodie?
Imagine your favorite plush blanket. Now, picture it with a hood, sleeves, and massive pockets – that's your oversized hoodie blanket. It's designed for those who appreciate the feeling of a warm hug on a chilly day. With a luxurious fleece microfiber exterior and a fluffy sherpa or sherpa fleece fabric lining, it's like stepping into a cloud…I basically live in mine now. I wear it to binge watch TV, to work at my computer and even run run errands in it…hahaha, that's socially acceptable, right?
I'm telling you, sherpa blanket hoodie especially delivers exceptional warmth thanks to its sherpa-lined interior, trapping body heat effectively while making you look effortlessly cool.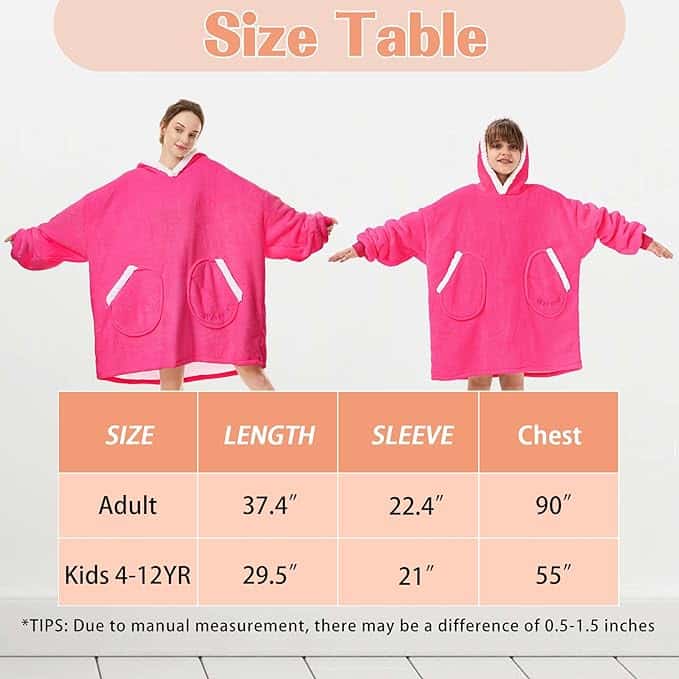 Sizing
This part is tricky, you have to decide HOW oversized you really want your blanket hoodie to be. I bought the Adult size AND the Kids size from Amazon and the ADULT one was HUUUGGGE! I am a size 12, Medium/Large top, 36DD Chest and the kid size honestly fit me so much better! SO when I told my husband the adult size was TOO BIG, he decided to keep it for himself instead of us returning it. 🤣🤣 I literally came into the livingroom last week to see he had thrown it on and fallen asleep in it.
The All-in-One Comfort Solution
What if your cozy sanctuary could hold your remote control, video games, or even a book? With deep pockets, the oversized blanket hoodie does just that. It's not just a snuggie hoodie; it's a utility garment allowing you to carry your essentials, keeping everything you need within a hand's reach.
Caring for Your Hooded Blanket
Concerned about upkeep? Don't be. Despite their fluffy sherpa and soft flannel fleece, these hoodies are machine washable. Toss them in the washing machine with cold water, and they come out as good as new, ensuring your best purchase remains in perfect condition.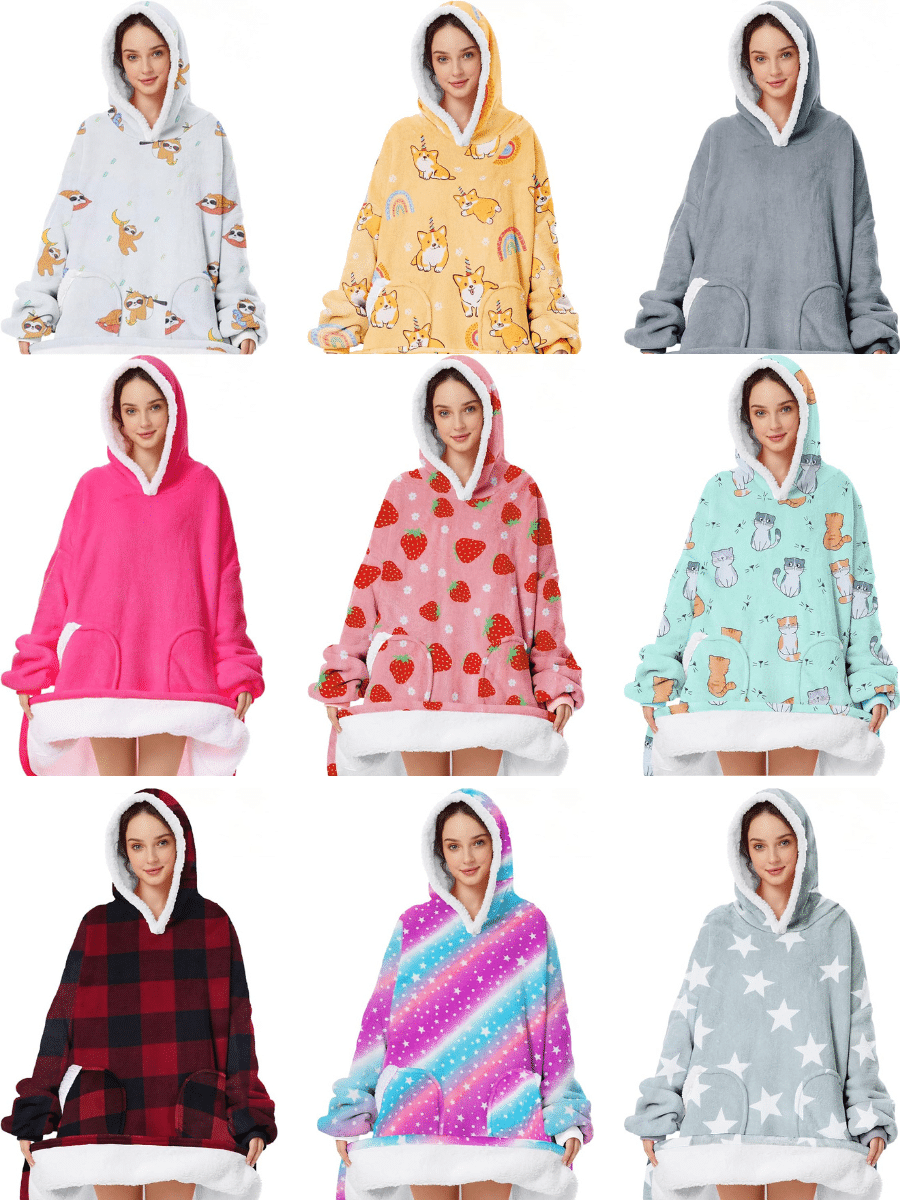 Style Meets Functionality
These snuggle-masters come in different styles to suit every personal style, from the discreetly chic to the playfully patterned. The soft fleece of the wearable blanket hoodie offers a perfect fit for the whole family, coming in adult sizes and sometimes even options for younger family members.
The Ideal Gift
With the holiday season twinkling on the horizon, these plush blanket hoodies present themselves as the perfect gift idea…don't get your loved one just another gift card. Whether it's for a movie night aficionado or someone who just loves to lounge, a soft blanket hoodie is a great gift that keeps on giving. And with free shipping often part of the deal, delivering warmth and joy has never been easier. Expect delivery within less than 3-5 business days, and you're all set for gifting success.
Making Your Purchase
In summary, whether you're braving a chilly day or simply in pursuit of a comfort upgrade, the oversized blanket hoodie is a versatile, practical, and stylish addition to anyone's wardrobe. With its massive pockets, oversized fit, and the ability to contain your body heat like a warm hug, it's more than just apparel – it's a way of life. Give the gift of warmth and comfort to yourself or your family members, and make the blanket hoodie a staple for those lazy, loungy days. It's not just a purchase; it's an investment in supreme comfort.
---
---
---