Everyone should keep this easy-to-make, reliable Chocolate Buttercream recipe in their back pockets to use when in need of a quick yet delicious frosting for your dessert goodies. You can whip up this smooth, fluffy, and melt-in-your-mouth frosting in just 10 minutes! It is perfect for spreading between elegant cake layers or piping onto adorable chocolate cupcakes.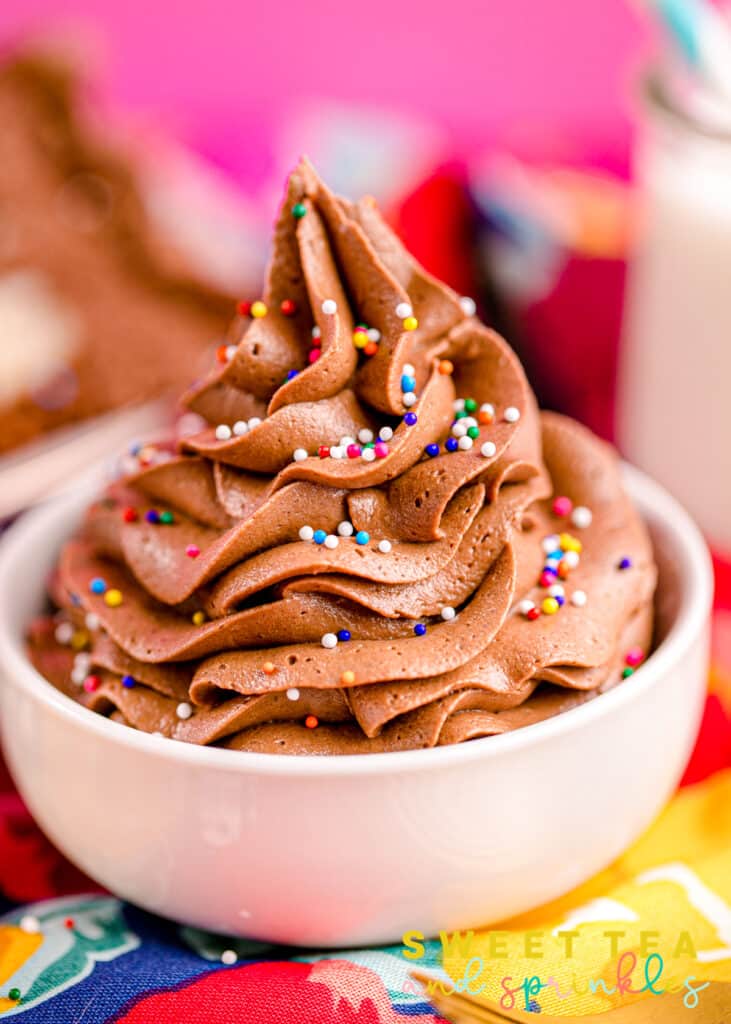 Quick and Easy Chocolate Buttercream
I have always thought that homemade birthday cakes are more special than store bought ones. Aside from the thought and effort that goes into it, you can also add your personal touch when making delicious cakes at home. I am no kitchen wizard, so the thought of making cake or cupcakes from scratch can be daunting. But hey, what are good quality cake boxes for, right? I am practical that way!
But, let me tell you, I definitely know how to make the best chocolate buttercream frosting! It is super quick and easy and instantly elevates even the humblest boxed cake into something sweet, creamy, and gloriously chocolatey!
What is the difference between frosting and buttercream?
Buttercream is actually a type of frosting made by creaming a butter and sugar mixture until it has a cloud-like texture. There are different types of buttercream out there. This recipe is a type of American buttercream, which is the simplest and easiest to make. On the other hand, Swiss meringue buttercream uses egg whites to make the frosting lighter yet sturdier. While French buttercream uses egg yolks which makes it richer and custardy in texture and flavor.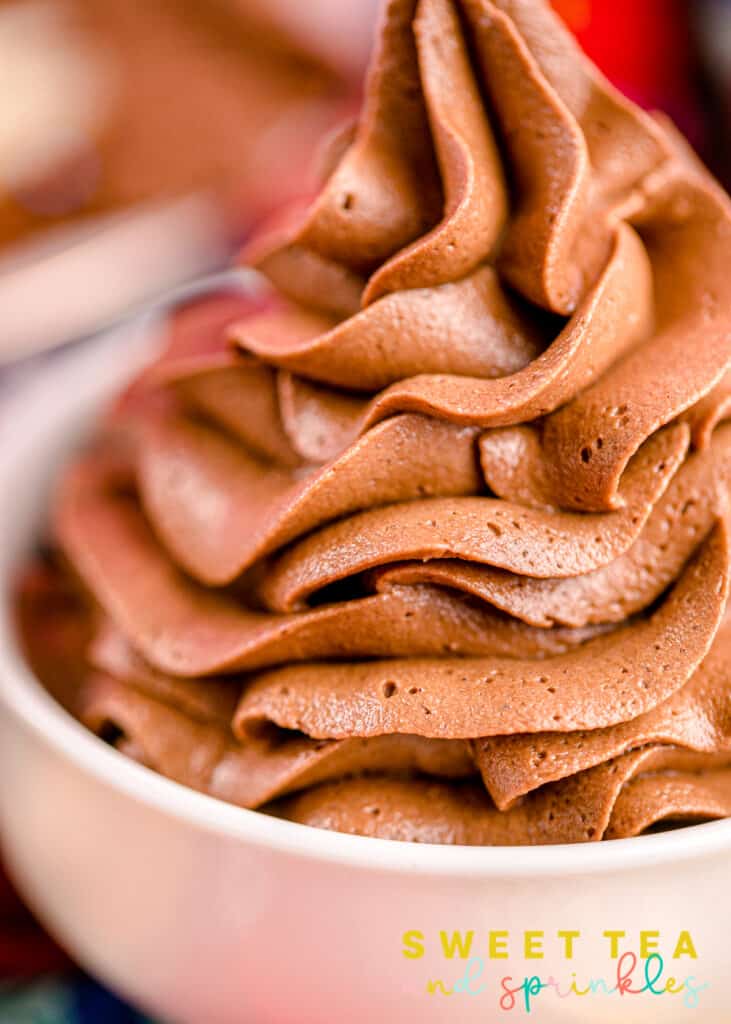 Why You'll Love this Recipe
You will only need a few minutes and 6 simple ingredients to make this chocolate buttercream frosting recipe.
It's a novice-friendly yet dependable recipe that comes out perfect every single time! A great start if you are still learning the ropes.
This easy chocolate buttercream holds its shape really well, making it ideal for piping onto any desserts you make.
This recipe is easy enough to customize to make other buttercream variations. Find out how below!
Ingredients needed:
Vegetable Shortening
Salted Butter
Cocoa powder
Powdered Sugar or Confectioner's sugar
Vanilla extract
Milk
Kitchen Tools You'll Need
Electric mixer
Large mixing bowl
Piping bag or Pastry bag
Make Chocolate Buttercream
Cream the shortening and butter together. Then mix in the cocoa powder and vanilla.
Beat in 2 cups of powdered sugar, then add 1-2 tablespoons of milk to moisten the mixture.
Keep on beating until well incorporated, then add the remaining sugar. Stir a bit more milk until the mixture becomes light and fluffy.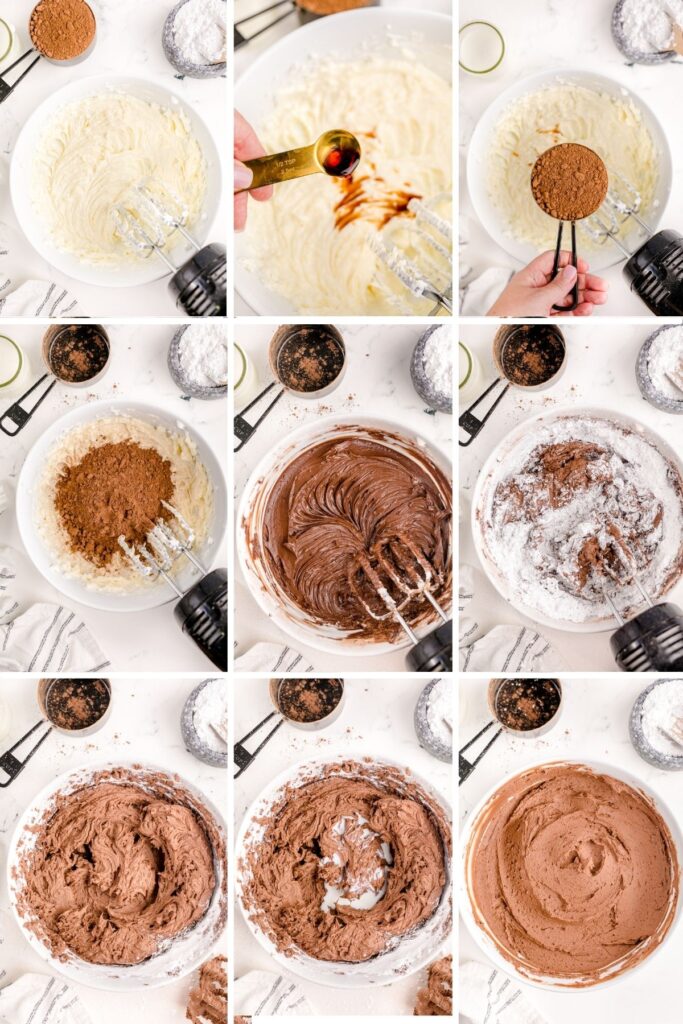 Tips when Making Chocolate Buttercream Frosting
Use softened room temperature butter but make sure it is not melted before using.
For velvety smooth buttercream, use very fine cane powdered sugar. Check the package information on how finely ground it is and what it is made of.
Start by using low speed when beating the butter mixture. Increase speed to medium-high when you add the sugar until you get the right consistency.
If your buttercream frosting is too thick or dry, add more milk until it becomes smoother. On the other hand, if it is too soft and loose, add more powdered sugar until it becomes firmer.
Do not overbeat the mixture as it might become grainy. Beat only until the mixture has lightened in color and has significantly puffed up.
Use a silicone spatula to scrape the bottom of the bowl and fold the mixture together to make sure that all ingredients are mixed really well.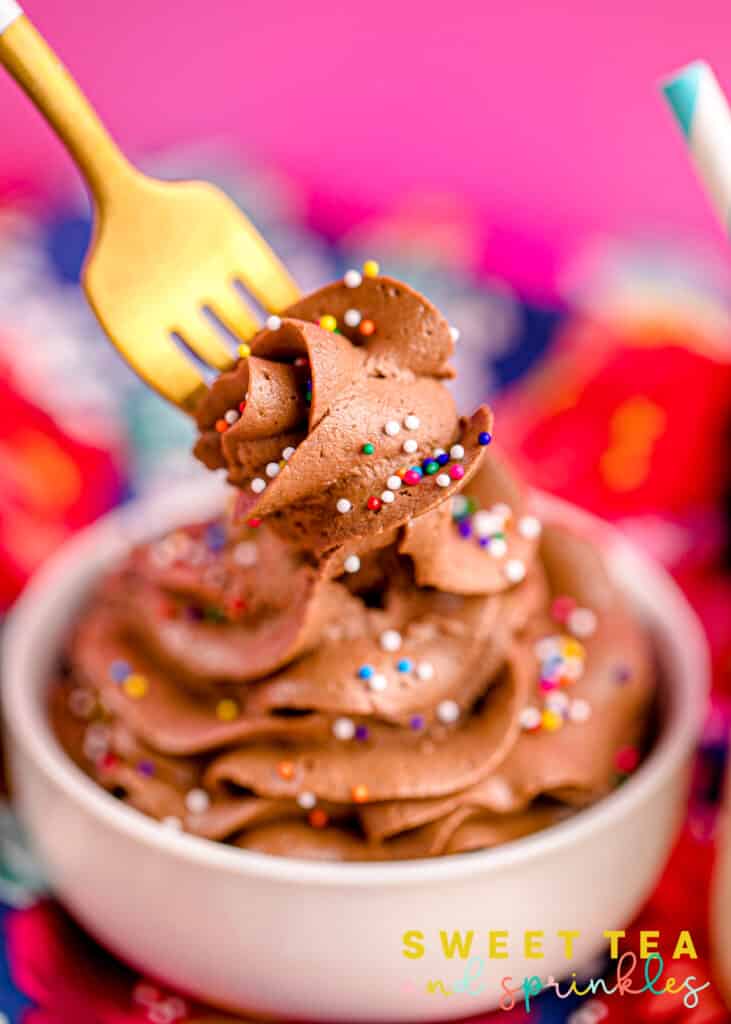 Variations:
Make a basic vanilla buttercream by omitting the cocoa powder in this recipe and adding more vanilla extract. You can make it fun and colorful by adding a few drops of gel food coloring that you like.
I added some sprinkles to make it more festive. However, feel free to add dark chocolate chips or shavings too.
Add some fruit juice and zest to make different flavored buttercreams. Adding peanut butter or espresso powder also works!
Storing Chocolate Buttercream Frosting
If you made more than what you intended to use, you can place leftovers in an airtight container and refrigerate them for a week. You can also place it in a freezer-friendly bag and keep it frozen for 2-3 months. Thaw in the fridge overnight before using. Mix or re-whip it as necessary before using it again.
Frequently Asked Questions
Do I need to chill the buttercream before using it?
o, there is no need to chill it before using it if done right. Unless it is exposed to warm temperatures and has slightly melted.
Can I use heavy cream instead of milk?
Yes, you can use it as a substitute. It will give you a fluffier and smoother frosting.
Can I use unsalted butter?
Of course, if that is what you have. Just make sure to sprinkle a pinch of salt into the mixture as it enhances the chocolate flavor of the buttercream!
Is frosting different for icing?
Yes, they are different. Frostings are made with butter and are thick and fluffy, while icings are shiny and smooth made with powdered sugar and liquid.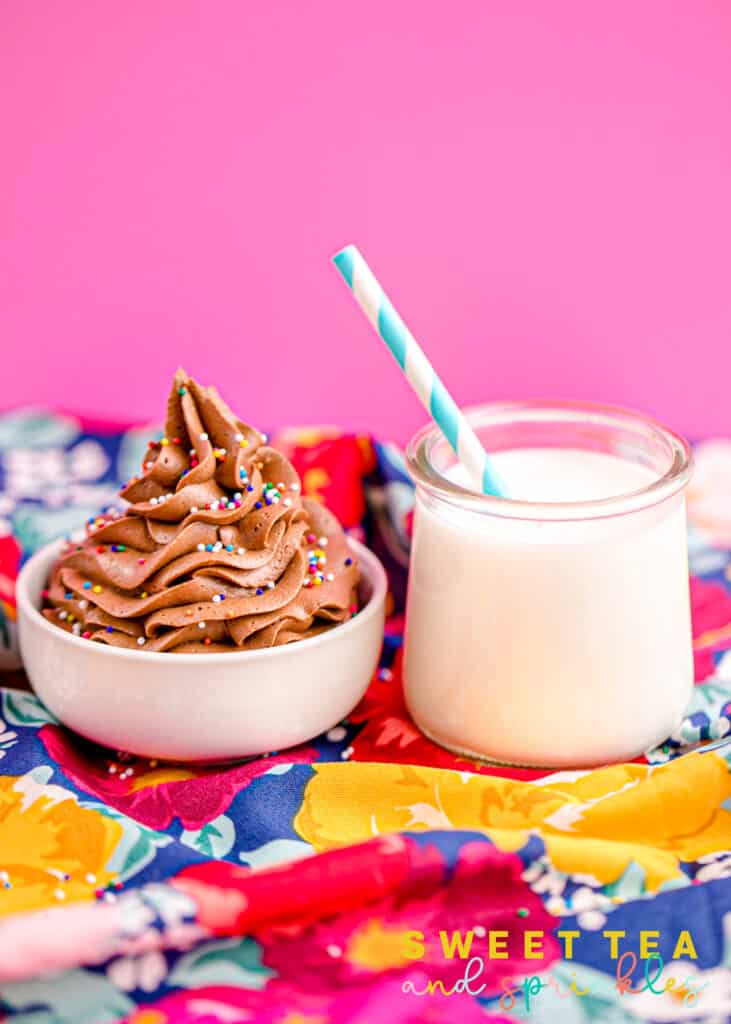 Everyone should have this easy-to-make and reliable Chocolate Buttercream recipe in their back pockets. You can whip up this smooth, fluffy, and melt-in-your-mouth American buttercream in just 10 minutes! It is perfect for spreading between elegant cake layers or piping into adorable chocolate cupcakes.
INGREDIENTS
1

cup

vegetable shortening

,

solid

¾

cup

1 ½ sticks softened salted butter

1

cup

cocoa powder

4

cups

powdered sugar

1

teaspoon

vanilla

3-4

tablespoons

milk
INSTRUCTIONS
To make the chocolate buttercream, first cream the shortening and butter together. Add the cocoa powder and vanilla and mix in.

Beat in 2 cups of powdered sugar. Once combined, add 1-2 Tablespoons of milk to keep the frosting from getting too dry as you combine. Once that is incorporated add the rest of the powdered sugar. Stir in a bit more milk until light and fluffy.

Frost your cakes or cupcakes using a butter knife or a piping bag/gallon sized bag (with a small whole cut in one tip) and a piping tip
---
---
---