Published Date: September 18, 2023
Obsessed with cookie butter? These easy Cookie Butter Cupcakes will satisfy all your cravings, and are the perfect sweet treat to whip up when you have some of that spread and Biscoff biscuits leftover.
🛒 INGREDIENTS
Cupcakes:
Yellow Cake Mix
Water
Eggs
Vegetable Oil
Cookie Butter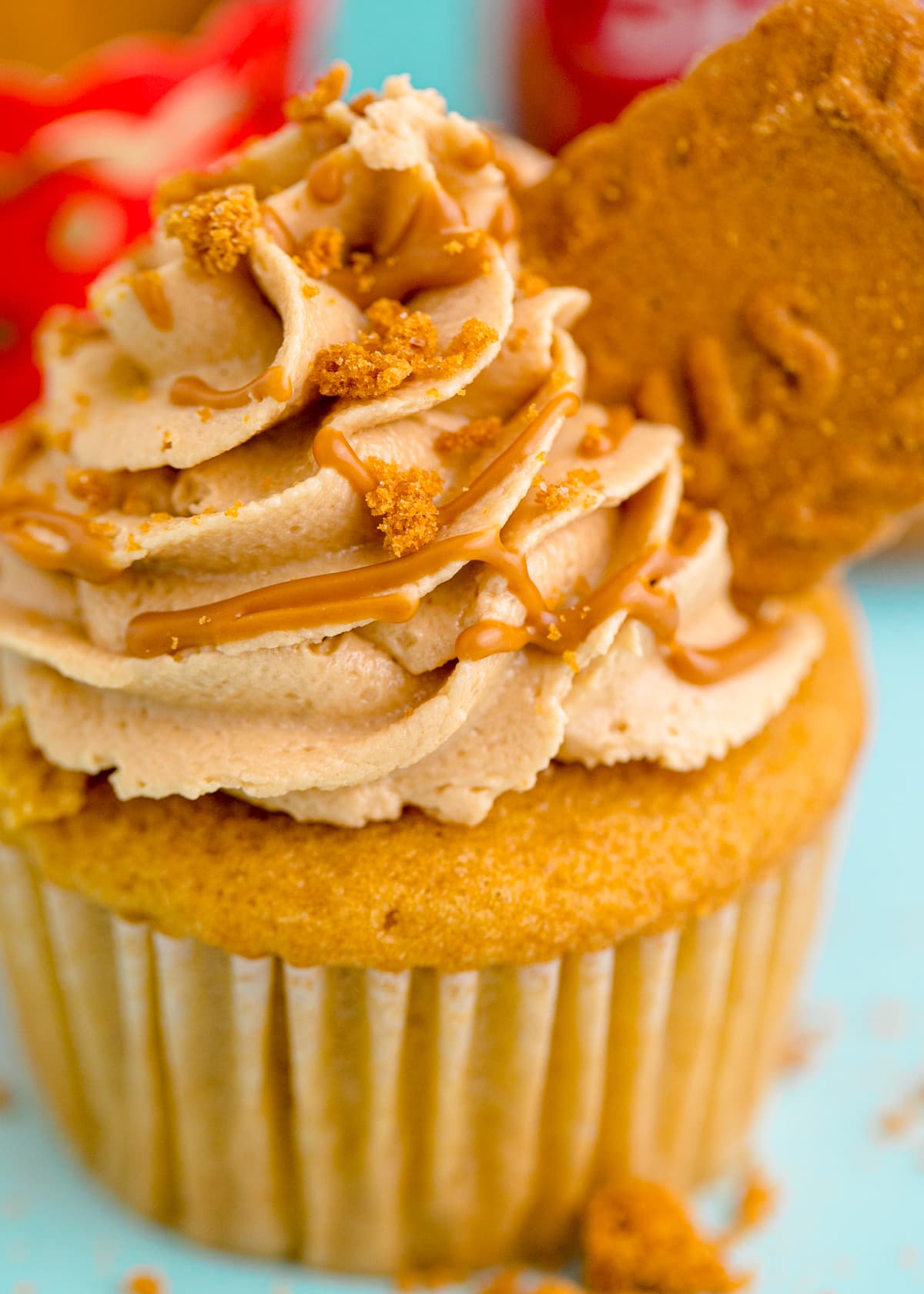 Buttercream:
Unsalted Butter
Cookie Butter
Powdered Sugar
Vanilla
Heavy Cream
Salt
*see recipe card for detailed amounts
HOW TO MAKE COOKIE BUTTER CUPCAKES
In a large bowl, using a hand or stand mixer combine all the ingredients for the cupcake batter, yellow cake mix, water, eggs, oil and cookie butter.
Preheat the oven to 350 degrees and line two muffin tins with cupcake liners. Spray the inside of the liner lightly with cooking spray.
Fill each liner evenly, just a bit more than half full.
Bake for 20 minutes or until the cupcake springs back after pressing it.
Let them cool and core the center of each cupcake using a cupcake corer or small spoon. I suggest not to core too deep, make sure to leave a little bit of cake at the bottom
Microwave ¼ cup of cookie butter for 10-15 seconds or until you can stir and pour it easily. Spoon the cookie batter into each of the hollow cupcakes and set aside.
In a large bowl, cream the softened butter and cookie butter together using a hand or stand mixer.
Beat in the vanilla and pinch of salt.
Then, mix in the powdered sugar, one cup at a time. As it thickens, slowly add the heavy cream until you reach the desired consistency.
Using a butter knife, spread the buttercream onto each cupcake or pipe it on using a piping bag and Wilton 1M tip.
Drizzle on some of the leftover liquid cookie butter and sprinkle on a bit of crushed biscoff cookies to decorate.
HELPFUL NOTES:
You can of course use any type of yellow cake mix, just follow the ingredients on the back of the box. Each type is different and may call for more eggs, or, water or the use of milk.
If you are planning to pipe the frosting into tall peaks, you may want to double the butter cream recipe.
STORAGE AND REHEATING INSTRUCTIONS:
You can store these cupcakes in an airtight container for up to 3 days. And you can even pop them into the fridge if you make them ahead of time then take them out about 2 hours before serving.
FAQS & SUBSTITUTIONS/VARIATIONS:
Which Cookie Butter Should I Use?
You'll most likely come across two variations to the cookie butter- crunchy and creamy. While it is best to stick to using the creamy version, you can also opt for the crunchy version if that's what you have at hand, or fancy a bit of texture.
How Do I Make the Cookie Butter Cupcakes Extra Soft?
While most boxed cake recipes might call for the use of water, eggs and/milk to loosen up the mixture and turn it into a batter, you can use buttermilk or yogurt instead. This will help make the cupcakes extra soft and moist.
What Other Toppings Can I Try?
Crushed Biscoff cookies or halved cookies poked into the buttercream are the classic toppings you can't go wrong with, but if you want to take it a step further, you can also drizzle a bit of the microwaved cookie butter.
You can also throw on some mini chocolate chips or a drizzle of chocolate sauce to bring in a nice chocolatey flavor as well.
Try Some of My Other Favorite Desserts
---
---
---