These homemade Apple Fritters are delicious bites of cinnamon-flavored goodness drizzled with vanilla glaze. They are golden, crunchy, and filled with classic fall flavors- the perfect way to start your day!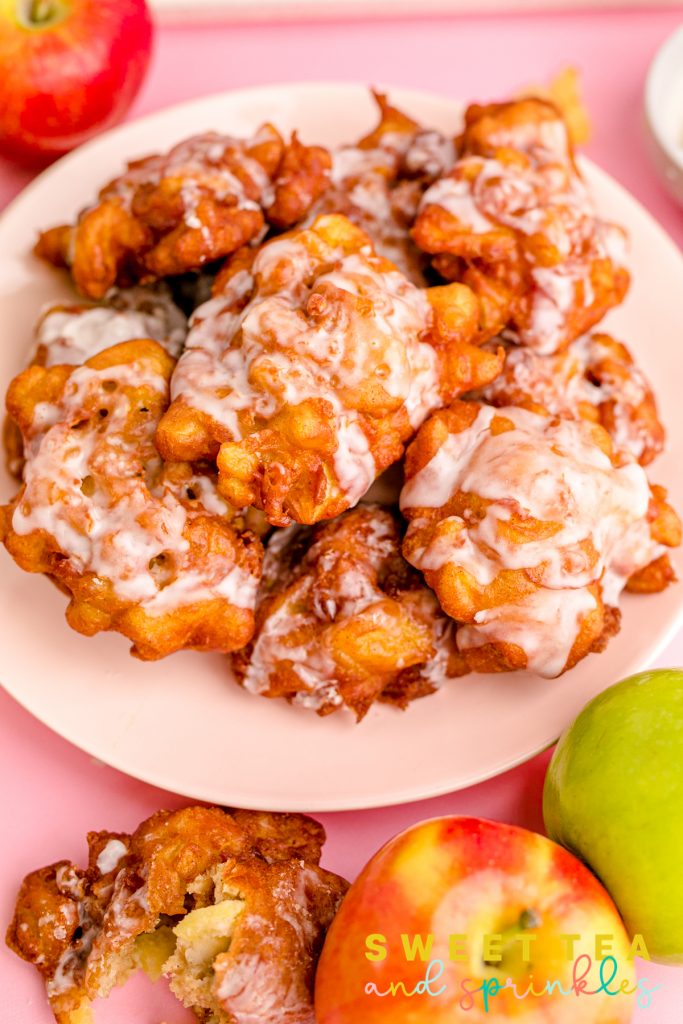 Easy Homemade Apple Fritters
I am now elbow-deep in making comfy homemade autumn recipes like my Homemade Butterbeer, Blackberry Lemon bread, and Pumpkin Fluff! So, with the abundance of delicious apples in local orchards and farmer's markets, I am in the mood to make one of our all-time favorite fall treats- Apple Fritters! And this recipe could possibly be the best one that you ever try. You can have these sweet fried treats for breakfast that the whole family can enjoy in just 30 minutes including making the glaze.
Why This Recipe Works:
They are easy to make and can be cooked in different ways!
A special treat that you can make if you have unused apple cuts so they do not go to waste.
Make these homemade apple fritters gluten-free by using a gluten-free flour brand! Make sure to check product information first before using any brand for the other ingredients, but they should be free of gluten in their natural form.
Ingredients Needed
This super simple apple fritter recipe does not need any fancy ingredients at all. It is quick homestyle comfort food made with mostly kitchen staples.
For the batter:
Flour, sugar, baking powder, eggs, salt, and milk– these pantry staples are mixed together to make a classic batter.
Cinnamon– adds a warm, citrusy flavor that is distinctive to any autumn treat!
Apples– I used granny smiths because they are crisp, firm, and juicy! They also have a nice tart flavor that perfectly balances the sweetness of the batter and glaze.
Canola oil– you can use any neutral-tasting oil with a high smoke point as well. Like grapeseed oil, sunflower oil, peanut oil or vegetable oil.
For the sugar glaze
Powdered sugar, vanilla, and milk– are used to make an easy glaze that elevates the fritters into fancy cake-like goodies!
Kitchen tools you'll need:
Whisk
Large pot
Wire cooling rack
How to Make Homemade Apple Fritters
Mix all the dry ingredients for the batter in a large bowl and set aside. In a smaller bowl, beat the eggs and milk until well blended, then pour it into the dry mixture. Add the apples and fold.
Drop a spoonful of the batter in the heated pan and flatten using the same spoon. Cook until golden brown before flipping it on the other side. Once done, place them on a baking rack or a plate lined with paper towels.
Make the glaze by whisking the powdered sugar, vanilla, and milk together. Drizzle over the fritters and serve them warm.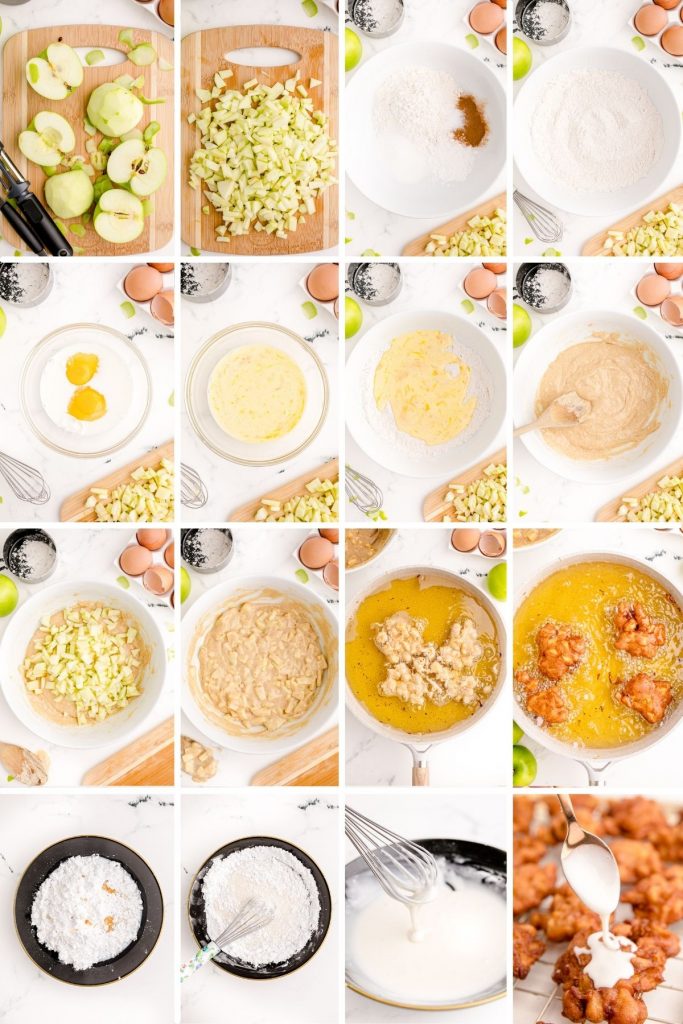 Expert Tips when Making Apple Fritters
The oil temperature is important to achieve the perfect fritters! Don't overheat the oil or the fritters will fry so quickly on the outside and leave the inside gooey and uncooked.
On the other hand, make sure that the oil is hot enough before dropping the fritters in it. If the oil is not hot enough, the fritters will absorb it and will turn soggy.
Use an instant-read kitchen thermometer for best results. In case you do not have one though, you can test by dropping a small amount of batter in the oil. If it sizzles and floats right away, the oil is hot enough.
The cooking time varies on the size of your fritters. Make sure they turn golden brown and firm before flipping them, or else they will fall apart. Flattening them ensures that they are evenly cooked too.
Do not overcrowd your pan. Too much batter will affect the oil temperature and will result in mushy fritters.
The glaze should be thick but pourable. If it is too thick, add a splash of milk. If it is too runny, add some more powdered sugar.
Great Topping Ideas:
These homemade apple fritters are soooo good, you will want them from time to time! Aside from the vanilla glaze, you can try these other yummy ideas to keep your breakfast from being too predictable!
Use fruit juices in making the glaze. Aside from adding more flavor, you can also enjoy some colorful fritters!
Make the kiddos giddy by adding some sprinkles on top of the glaze.
If you are in a hurry, you can pass up the glaze and just sprinkle the powdered sugar on top of these goodies.
If you can't get enough of cinnamon, you can also make a cinnamon sugar topping by mixing the cinnamon powder with granulated sugar in equal amounts.
Turn this sweet treat into a great dessert ala mode by serving it with a scoop of vanilla ice cream on top!
How to Store Leftover Apple Fritters
The homemade Apple Fritters are really best served fresh off the pan and it's unlikely that you'll have any leftovers. But if you do, store apple fritters in an airtight container.
At room temperature: They will keep for 2 days. However, make sure to store them in a cool dry part of the kitchen.
In the fridge: they will stay fresh for up to 7 days.
In the freezer: Keep them frozen for 2 months.
These fritters don't keep or re-heat SUPER well. Like donuts at a donut shop, they are best eaten soon after they are made but I tried reheating mine in the air fryer for 3 minutes at 350 degrees and it helped bring back some of the crispiness of the fritter (then, I of course added more glaze on top!)
Frequently Asked Questions when making Homemade Apple Fritters
Can I make Baked Apple Fritters instead?
Yes, you can bake them! Make sure to preheat your oven to 350°F. Place the fritter batter evenly spaced in a greased pan or line it with parchment paper. No need to flatten them as they will spread as they bake. Bake for 15 minutes until they turn golden brown and the center is firm.
Can I make Air-fryer Apple Fritters too?
Sure, you can. Just preheat your air-fryer at 350°F. You can either spray the basket with oil or place parchment paper on top. Scoop the batter into the basket and air-fry for 5 minutes on each side or until they are firm and crisp.
Could I substitute a different variety of apples?
Honey crisp apples are delicious in this as well. They are the right texture and are a bit sweeter than the Granny Smith.

Could I substitute whole wheat flour? 
 You could easily substitute up to half of the flour. So ½ cup of whole wheat flour and ½ cup of all-purpose flour.

Could I use water instead of milk in the glaze?  
You can. Just substitute the same amount. It will make a slightly thinner glaze.

Could I substitute a different kind of fruit?  
Yes, blueberries or peaches are really nice substitutions. Just use 1-2 cups of diced fruit in place of the apples.

Could I use brown sugar instead of white in the dough for these apple fritters? 
Absolutely, just use the same amount.

If you've tried this HOMEMADE APPLE FRITTERS or any other recipe on my site, let me know in the comment section how they turned out. We love hearing from you! You can also follow along with me on FACEBOOK AND INSTAGRAM to see more colorful recipes!
These homemade Apple Fritters are delicious bites of cinnamon-flavored goodness drizzled with vanilla glaze. They are golden, crunchy, and filled with classic fall flavors- the perfect way to start your day!
INGREDIENTS
Batter:
1

cup

flour

3

tablespoons

granulated sugar

2

teaspoons

baking powder

1

teaspoon

cinnamon

¼

teaspoon

salt

2

medium

eggs

⅓

cup

milk

2

medium

Granny Smith apples

,

peeled, cored, diced into ¼ inch pieces (2-3 cups)

3-4

cups

Canola oil
Glaze:
1 ½

cups

powdered sugar

1

teaspoon

vanilla

3

tablespoons

milk
Optional Garnish: powdered sugar
INSTRUCTIONS
Whisk together the flour, sugar, baking powder, cinnamon, and salt in a large bowl. Set this aside.

In a separate small bowl, gently beat the eggs and milk together. Pour this into the dry mixture and stir until just combined. Stir in the apple pieces.

Heat the oil in a large pot to 375 degrees. (I cannot stress this enough – don't overheat the oil or the fritters will fry SO quickly and the outside and leave the inside gooey and uncooked.)

Drop the batter (try to flatten it out as you pour) by heaping spoonful into the hot oil. Depending on the thickness of your batter, you may want to flatten it out a little, so the fritter is not too thick. Allow to come to a golden brown (about 2 minutes) flip it and brown the other side. Do not crowd the pan.

Remove each fritter as it is golden brown all over, to a plate lined with paper towels or a baking rack over a cookie sheet.

Prepare the glaze by mixing together the powdered sugar, vanilla, and milk. You may want to add more or less milk than required to achieve your perfect consistency.

Dip or drizzle glaze over each apple fritter then allow them to cool a bit.
NOTES
These really are best served fresh!
---
---

These look so yummy! I'm going to try making them in the air fryer.


very easy recipe to follow.

thank you.
---